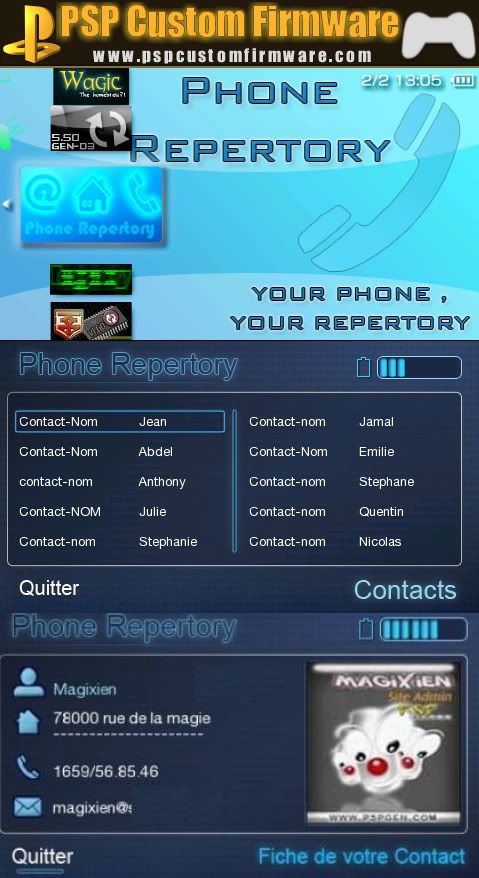 Phone Repertory v1 for PSP has just been release to the PSP Homebrew community not too long ago . Phone Repertory which seem to be the first release by the PSP homebrew developers The Creative Team . This is a pretty well done PSP phone number directory which seem to be the first of it's kind release to the PSP Homebrew community. Phone Repertory is a project being work on by a solid PSP hombrew developers team in the community trying to make Phone Repertory a useful PSP Homebrew application which hopefully homebrews users will use Phone Repertory as a pretty neat must have PSP homebrew application .
This is what the PSP Homebrew Developer had to say about Phone Repertory v1
History Project

Wellis, admin and founder of our team of designers we launched the challenge to make a homebrew that would be a useful application on psp.

Raven member of our team had the idea to make a telephone adapted to the psp.

So we formed a team, supervised by Wellis and Raven to develop the project and today we are proud to announce that the project is finally finished and you are finally available!

Repertory Phone

As I said above, Phone Repertory is intended to make life easier by offering you the opportunity to have in your pocket with a telephone directory list as available, 10 important contacts in your community.
This is how to install Phone Repertory on your PSP
# Connect your PSP to your computer via USB,
# Place your PSP in "USB mode" with the option "USB Connection"
# Click the right mouse button on the file you downloaded,
# Choose "Extract files …", (WinRAR is advised)
# Choose like destination the letter assigned to your PSP from your computer.
# Press OK and wait extraction files,
# Quit the "USB mode" on your PSP
# Go to the menu > Memory Stick to start: Phone Repertory
Download Location for PSP Homebrew application Phone Repertory v1
Location 2 – http://pspcfw.com/dl/download.php?file=112PhoneRepertoryv1.rar
SHARE
Comments
comments
Powered by Facebook Comments