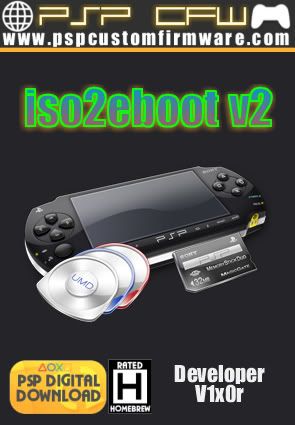 Description for iso2eboot v2
Description
= iso2eboot v2 has just been updated . This is a cool homebrew application known as iso2eboot v2 will helps users convert there PSP ISO to Eboots format to be compatible with official PSP Firmware on PSP and PSP Go System . IF you have a few ISO you will like to convert to play on your PSP Go system from your PSP system , Then this tool will be awesome to help you convert them so it will be compatible on the PSP Go System . It's also support ISO from PSX games as well . Remember that even though iso2eboot v2 will help users convert ISO to Eboots , It does have it's limitation , a ISO must not be bigger then 728 MB or it will not work , Not all ISO will work, But mostly all of them that are 728 MB on less will work 95 percent of the time . So go ahead and download this cool ISO to Eboots application known as iso2eboot v2 for your psp . Feel free to download iso2eboot v2 via our download section and don't forget to read what the developer had to say about the release of this awesome homebrew application known as iso2eboot v2 in the developer statement section below .
PSP Title
= iso2eboot v2 | iso to eboot converter
Language
= English
Version
= v2
Signed PSP
= NO
Developer
= V1x0r
Release Date
= March 4th of 2011
Download Section for iso2eboot v2

Download Location 1 – Click Here to Download Now
End Download Section
Developer Section and Source OF information
uses Fake_np.exe v5 from TPU.
Supports iso game rips in estimated size of up to 728mb.
VIRGIN psp required (works on non-virgin psp's also). ALL psp models!

1 – Simply take the iso2eboot_v2.exe and place it in the root directory with your ISO's, CSO's, DAX's, and JSO's
2 – Run the "iso2eboot_v2.exe" and select "Convert isos to Eboots"
3 – wait until it's done.

(This is for both Virgin and Non-virgin game rips).
Source of Information and Support
= http://wololo.net/talk/
SHARE
Comments
comments
Powered by Facebook Comments