Buy Pandora Battery at affordable Price . Buy Pandora Battery with PSP CFW pre-installed on them . Making your PSP Pandora Battery Kit the only tool you need for Downgrading your PSP 1000 and PSP 2000 Model Including PSP Official Firmware 6.20 Downgrade . With this latest Pandora battery kit for your PSP which comes with CFW on the memory card already . Saving you time and headache in creating a Pandora Battery . So if you are looking to Buy a Pandora Battery for your PSP 1000 and PSP 2000 then Feel free to visit here to purchase or click on the picture below .
All PSP Pandora Battery Kit come with PSP Custom Firmware pre-installed on the memory card , So users could downgrade their PSP right away . PSP Pandora Battery Kit will also help you unbrick any PSP that has been corrupted . With this Pandora Battery Kit , Users now will be able to unbrick their PSP .
Best Affordable Pandora Battery Sale – Cheap Pandora Battery Sale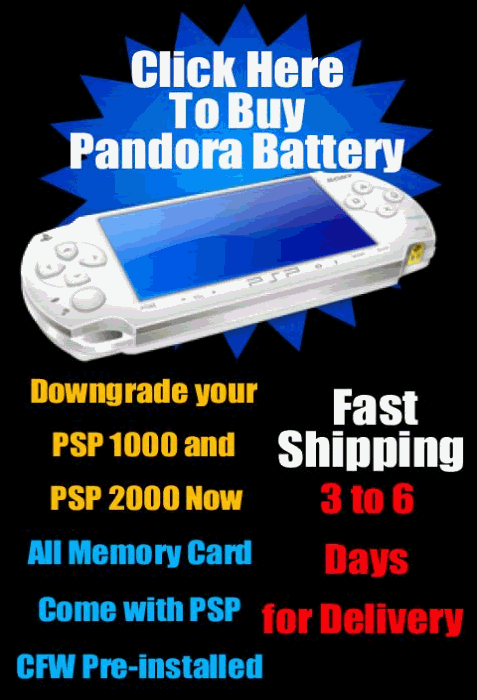 Users of PSP 1000 and PSP 2000 can now easily downgrade their PSP with this Pandora Battery Kit which comes pre-install with CFW on it. Now PSP 1000 and PSP 2000 users will be able to downgrade their PSP as soon their get their Pandora Battery Kit . No need to create a Magicstick as is included with the Pandora Battery Kit . SO if you are looking for a chap Pandora Battery, Then go ahead and Buy Pandora Battery and unbrick or downgrade your PSP today. Shipment for this Pandora Battery Kit usually takes between 3 to 6 days for delivery . All Pandora Battery Kits comes from Miami Florida . So you are bound to get your PSP Pandora Battery Kit fast .